"Clio, Muse of History"
Clio, muse of History, manifests herself to the disappointed painter after the ban of his painting "Leda". from the most important digital art website , because of child nudity…see the image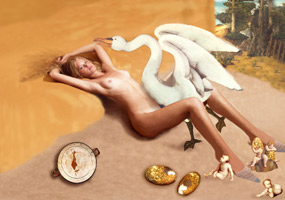 " Clio, musa della storia"
Clio, musa della storia, si manifesta al pittore rattristato dal fatto che il suo quadro "LEDA" stato rifiutato dal più importante sito di arte digitale perchè ritenuto osceno.
Cosa accade al mito quando la raffigurazione della nascita dei Dioscuri Castore e Polluce ed Elena e Clitennestra dalle uova generate dall'accoppiamento di Zeus con Leda viene interpretato come oscena rappresentazione di bambini nudi??